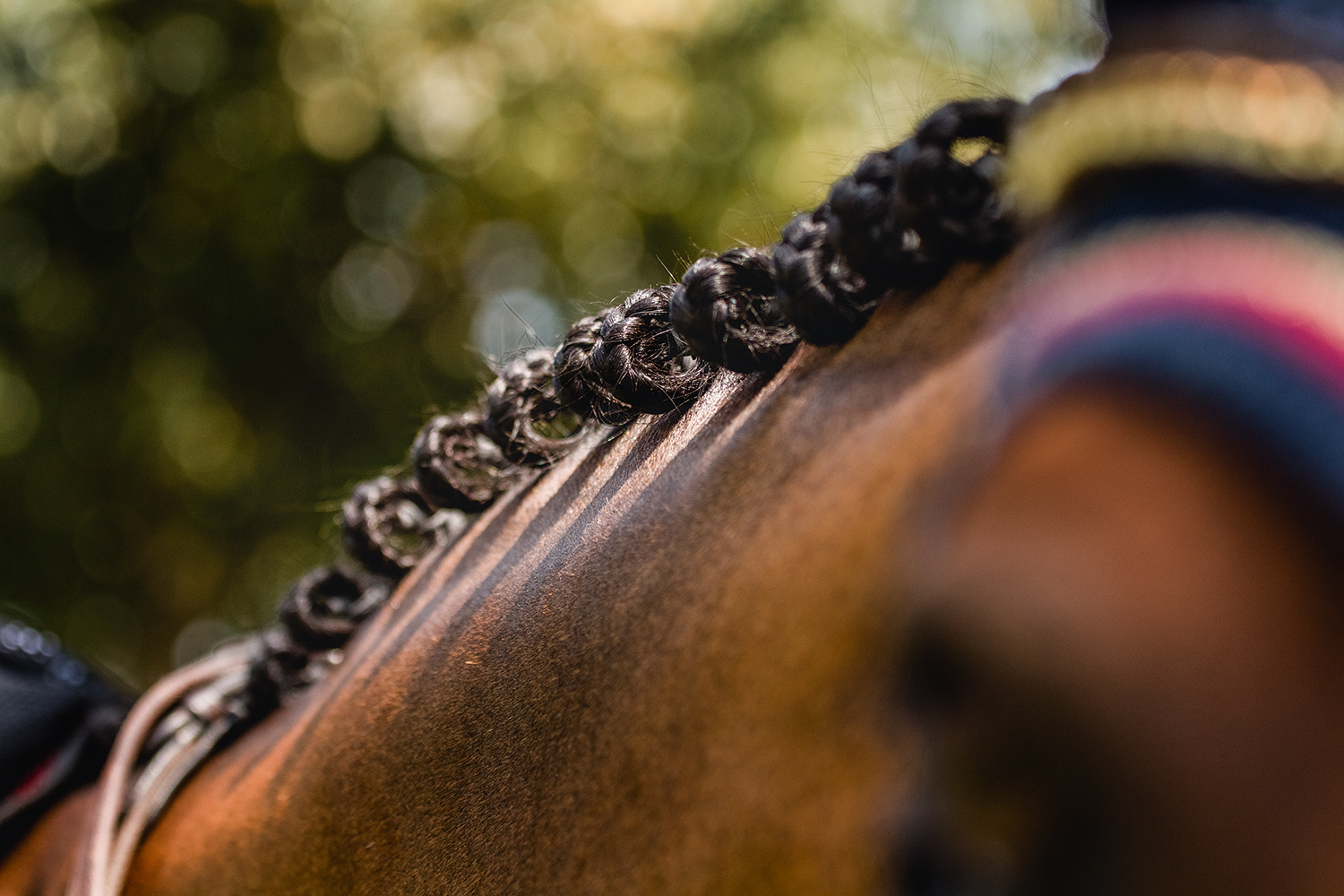 03 Aug

Tokyo 2020: Live Ticker showjumping

Remember to refresh the livestream every once in a while!

3.35 p,m.
It's over, the riders who are qualified for the individual finale tomorrow are:
Ben Maher (GBR) / Explosion W
Darragh Kenny (IRL) / VDL Cartello
Ashlee Bond (ISR) / Donatello 141
Maikel van der Vleuten (NED) / Beauville Z
Mario Deslauriers (CAN) / Bardolina 2
Bertram Allen (IRL) / Pacino Amiro
Gregory Wathelet (BEL) / Nevados S
Luciana Diniz (POR) / Vertigo du Desert
Scott Brash (GBR) / Hello Jefferson
Peder Fredricson (SWE) / H&M All In
Jérôme Guery (BEL) / Quel Homme de Hus
Daniel Deusser (GER) / Killer Queen VDM
Niels Bruynseels (BEL) / Delux van T & L
Yurii Mansuur (BRA) / QH Alfons Santo Antonio
Harry Charles (GBR) / Romeo 88
Malin Baryard-Johnsson (SWE) / H&M Indiana
Nicolas Demotte (FRA) / Urvoso Du Roch
Daisuke Fukushima (JPN) / Chanyon
Martin Fuchs (SUI) / Clooney 51
Kristaps Neretnieks (LAT) / Valour
Henrik von Eckermann (SWE) / King Edward
Marc Houtzager (NED) / Sterrehof's Dante N.O.P.
Nayel Nassar (EGY) / Igor van de Wittemoere
Koki Saito (JPN) / Chilensky
Cian O'Connor (IRL) / Kilkenny
Geir Gulliksen (NOR) / VDL Groep Quatro
Eiken Sato (JPN) / Saphyr des Lacs
Beat Mändli (SUI) / Dsarie
Mouda Zeyada (EGY) / Galanthos SHK
Daniel Meech (NZL) / Cinca 3
Good luck to all of them!
3 p.m.
The current number 1 in show jumping, Daniel Deusser, is in the ring. Under his saddle is Killer Queen VDM, which is actually his second choice. Deusser originally wanted to ride his horse Tobago. However, the two horses are at eye level, it is a comfortable situation, when a rider has several top horses in the stable. Killer Queen lives up to her name, doesn't let Daniel Deusser down and easily qualifies the two for the final of the individual ranking.
2:51 pm
The air for the rides with penalties is getting thinner and thinner, because the Belgian Niels Bruynseels delivers another clear round with Delux van T & L!
2:39 pm
The break is over and in the ring is Jessica Springsteen (USA). The 29 year old has established herself in show jumping, has already trained horses and made a good name for herself in the horse scene. The crowning glory of her career so far has certainly been the nomination for the Olympic Games! At the end, unfortunately, they had a penalty.
2:23 p.m.
Another break. Before the break there were two pairs with no penalties: Luciana Diniz with Vertigo du Desert and Peder Fredricson with H&M All In. By the way, only 30 riders will fight for an individual medal, currently all riders with zero penalties are ranked as 1st place according to the evaluation. If there are more than 30 riders without penalties, the time decides who can still fight for a spot on the podium.
2:11 p.m.
A very strong round from Steve Guerdat, the current number three in the world rankings. He knocked a pole on the triple bar down and is obviously disappointed. He is currently 22nd, a look at the list of riders who will still complete the course suggests that Guerdat and Venard de Cerisy have no chance to win an individual medal. What a pity!
2:03 pm
These are the third Olympics for Alberto Michan, but it is the first time that he has competed for Israel. Unfortunately, his journey ends at the open water. The fall leads to exclusion.
1:59 p.m.
Malin Baryard-Johnson is underway with H&M Indiana – these are not her first Olympic Games, the Swede was already Atlanta (1996), in Sydney (2000) and in Athens (2004). She is a well-known figure in equestrian sport and has chose the competitions for her horse with great care in order to optimally prepare her for the Olympics. Apparently she did everything right, because the two of them reached the finish line with a zero-penalty ride. The Swedes are among the favorites, both in terms of individual and team medals.
1:53 p.m.
The next zero-penalty round was be delivered by the Brazilian Yurii Mansur with his KWPN gelding QH Alfons Santo Antonio.
1:49 pm
One top pair chases the other! At the start is the current number 2 in the world ranking list, the Swiss rider Martin Fuchs with his gelding Clooney. He is also considered a favorite at these Olympic Games! He proves impressively why he is one of the best in the ranking and crosses the finish line without a fault
1:46 pm
Ben Maher, the current number 12 of the world ranking list, and his successful horse Explosion W – they have already achieved so much and are top favorites when it comes to medals. The name of the horse says it all, the two of them gallop through the finish line with a world-class round!
1:43 pm
The Swede Henrik von Eckermann finishes without any penalties! The joy is huge, not only Henrik's, but also his groom is visibly relieved.
1:42 pm
Henrik von Eckermann is in the arena, together with King Edward, who actually was seen a lot under the saddle of his partner Janika Sprunger. We keep our fingers crossed, so far it has been a very strong round!
1:35 p.m.
Harry Charles, who is only 22 years old, jumps an extraordinary clear round!
1:29 pm
Ashlee Bond screams with joy and comes out of the course dancing and singing, because she and Donatello just showed us all a confident clear round!
1:28 p.m.
The break is over and the Norwegian, who is heading for Tokyo as an individual athlete, is riding a great lap with VDL Groep Quatro and only gets a small mistake for exceeding the time!
1:12 p.m.
Small break! The last rider before the break, Mario Deslauriers, delivered another flawless round! His mare Bardolina gave everything, so it's another clear round.
1:06 pm
Cian O'Connor brings the seventh faultless ride with Kilkenny, who was born in 2012!
12:59 p.m.
Wow! The third and last Japanese finished the course and shows what the other nations can expect from them. A strong round by Eiken Sato, which he finished with only one time penalty. His horse Saphyr des Lacs jumped with ease.
12:52 p.m.
What a strong round! Nayel Nassar (Egypt) and his horse Igor van de Wittemoere . The fifth clear round, so far we have seen 20 riders. The course is tough!
12:50 p.m.
When the riders ride out of the arena, you can see the empty stadium in the background – a kind of sad sight. Nevertheless: the Olympic Games are the Olympic Games, even if of course a lot depends on the atmosphere and the spectators, who cheer and fill the arenas with emotions and life.
12:43 pm
Irishman Bertram Allen delivers a fantastic, strong clear round with his Pacino Amiro, who was only born in 2012! It's only the fourth penalty free ride after 16 starters!
12:40 p.m.
What a surprise: Penelope Leprevost's mare Vancouver de Lanlore stops at jump number 10 with the sumo wrestler. This means that it is almost impossible for the successful rider to reach the individual finals. Nobody expected that from the 2016 team gold winner!
12:36 pm
The Japanese riders are extremely strong today! Koki Santo flies through the finish line with his powerful gray gelding Chilensky and delivers another clear round. Paul Schockemöhle, who is the manager of the Japanese team, is visibly happy for him!
12:16 pm
The first clear round! Very strong round by the 43 year old Japanese Daisuke Fukushima with his horse Chanyon. The joy in the "Kiss and Cry" area is overwhelming!
12:13 p.m.
A very strong lap by Mouda Zeyada and Egy – the rider's joy is huge, with one time penalty he might be qualified for the individual finals!
12:05 p.m.
The second rider is at the finish with 16 penalties. This course has it all, there is not much time to breathe between the jumps!
12:00 o'clock
The first rider is on the track, Ibrahim Hani Bisharat from Jordan with his horse Blushing. The Jordanian rider waived a rating, which ended the Olympics for him, since he started as an individual rider.
11:55 a.m.
63 riders start and aim to get into the top 30 in order to qualify for the individual finals.